Feature Article: Using Tabs3's DropBox
Did you know that the DropBox in Tabs3 and PracticeMaster software serves as a temporary holding area for reports and statements that are output as PDF files via the DropBox print option?
To send reports and statements to the DropBox, select DropBox from the Print window and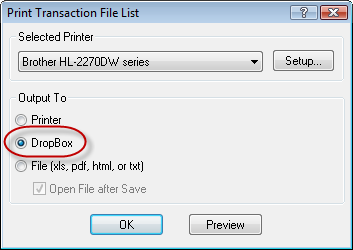 click OK. The files sent to DropBox are temporary files that are stored on your computer, and will be removed when all Tabs3 and PracticeMaster software is closed. This is perfect for reports that need further action. You can run and review several reports for comparison, or e-mail them to another party for review before printing or saving. This can save you from unnecessary time spent finding, retrieving, and ultimately deleting temporary files.
All of the Tabs3 and PracticeMaster programs use a common DropBox, so all of your files will be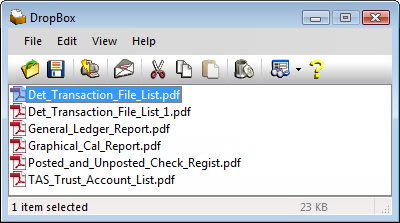 accessible from one location. A separate DropBox is maintained for each user. The name of each file is determined by the name of the report. If a report is sent to the DropBox more than once, a number will be appended to the end to differentiate them. For example, if a Client List is run twice, DropBox will display "T3_Client_List.pdf" and "T3_Client_List_1.pdf". To rename any of the files, right-click on the file and select Rename.
You can also drag and drop files to the DropBox from any Windows folder, as well as drag and drop files from the DropBox to any Windows folder. Items in the DropBox can be opened, saved, printed, e-mailed, and deleted either individually or in a group. When e-mailing DropBox items, your default e-mail program is used to create a new e-mail, and the file(s) selected will be attached. All you need to do is add recipients, your message, and then click Send!
DropBox is a great way to group files for easy handling. All of your files will be in one place for quick review, retention, or removal!
Rating: 5.0/5. From 3 votes.
Please wait...