Feature Article: Email Statements
Attaching statements to emails one by one is time consuming. Save time by using the Tabs3 Email Statements program to send PDF statements without leaving the software!
With the Email Statements feature, you can automate your billing process by sending batches of statements with just a few clicks! Tabs3 will automatically generate an email message, attach the PDF statement, and send the email. There is no need to manually attach PDFs to emails and your clients will receive their statements faster, which means payments can be received faster.
Emails are streamlined and customizable. Email Templates (Statements | Statement Setup | Email Templates) can be created using a specific From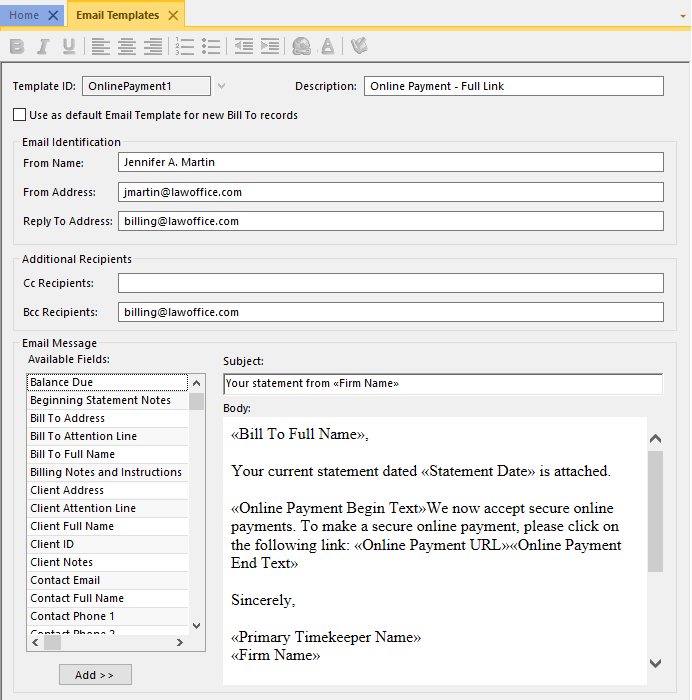 Name and From Address, as well as CC and BCC Recipients. You can create custom messages that automatically include the client, balance due, a LawPay or ProPay payment link, and other information you want using a range of available fields. Simply enter the desired text and add the fields you want to populate. Once your template is set up, you can assign the template to a client's Bill To Record, or to a group of clients through Change Client Options.
Clients can be set up to receive their statement via mail, email, or both. The option to password protect a client's PDF file is also available to ensure that only the intended recipient can view the statement.
Once your client is set up to email statements, run your statements as you normally do. After running a final statement and printing any statements that must be sent through the mail, open the Email Statements window (Statements | Email Statements) to review all statements ready to be sent via email. All emails must be marked as Reviewed before they will be sent.

Need to add information to one client's email for just this statement run? You can edit the email before sending the statement, without editing the template, by selecting the client in question and clicking the View/Edit Email button. When editing an email, you can also attach other files, such as reports, contracts, and other documents, to the email before it's sent out.
Once you have reviewed emails and made any additions or changes, click the Send Reviewed button. The program will verify whether statements have been updated, and if they have not, you will be provided the option to update at this time. Once they have been updated, your emails will be sent to clients with the statement attached, followed by a confirmation window displaying how many statements were successfully sent.
Customized emails with attached statements can be sent to your clients quickly, securely, and with no additional cost to the firm. If you are not already set up for emailing statements, try it out and see how emailing statements can streamline your billing!
For more information on setting up and using the Email Statements feature, refer to Knowledge Base Article R11338, "Emailing Tabs3 Statements."
Rating: 3.0/5. From 2 votes.
Please wait...