Spotlight: Process Timer Records
With PracticeMaster, you can use timers to track the time you spend on research, planning, correspondence, and more. However, if you don't turn timers into fees, you may be missing out on valuable time that can be billed to your clients.
The Process Timer Records program (File | Process Timer Records) provides the ability to convert your timer records into fees. You can optionally process records into individual fees or combine multiple timer records into a single fee, provided the records are for the same client.
To select a record in the Process Timer Records window, click in the
column or click the

to place a check mark next to the record. If you want to remove the check mark from a record, click in the
column again or click the

. Once one or more records have been selected:
Clicking the Combine to Fee button will combine all selected records into a single fee.
Clicking the Convert to Fee button will create individual fees for each selected record.
Clicking the Mark as Hidden button will remove the selected record(s) from the Process Timer Records window. (Note: Removing a record from the Process Timer Records window will not remove it from the Journal file.)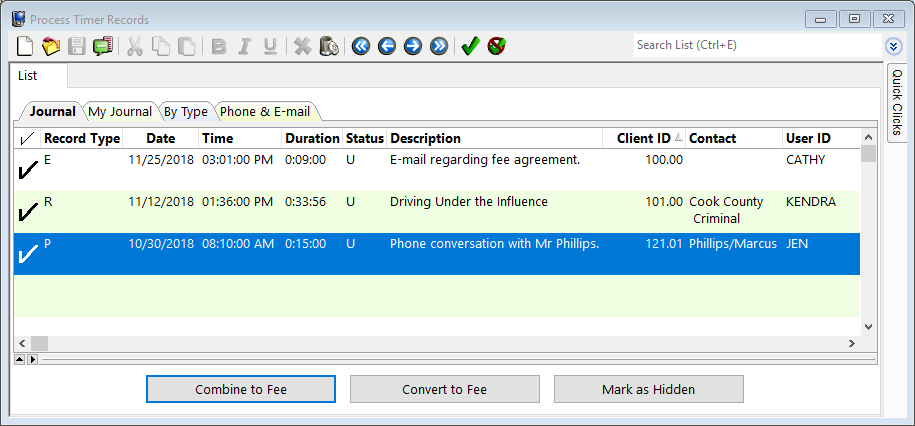 When clicking the Combine to Fee or Convert to Fee buttons, a Convert to Fee window will be opened, allowing you to edit the Fee record before saving. Default Fee record values for each record type (E-mail, Phone, Research, Timer, and more) can be specified via the Convert to Fee settings utility (Maintenance | Preferences | Convert to Fee Settings). Specifying default values such as the tcode, timekeeper, description, and minimum time to bill can help streamline your Process Timer Records routine.
If you're not already using the Process Timer Records feature, consider adding it to your process to help make sure you're getting paid for your time.
No votes yet.
Please wait...