Work-in-process reports can provide valuable insight into what can be billed to a client, as well as what will be owed once billed. These Reports provide detailed information about work-in-process transactions, along with client-related information.
The Detail Work-In-Process Report is one of the most customizable reports in Tabs3. You can set it up to include only the transaction details that you need to see, and you can even control which columns print on the report. The Detail Work-In-Process Report provides access to all of the unbilled transactions for your clients and can be used as a pre-bill to assist with billing decisions prior to generating final statements.
The Summary Work-In-Process Report provides a quick summary of clients' status for reviewing previous balance and payment/credit information in addition to how much each client would owe if all work-in-process were billed today.
The Detail and Summary Work-In-Process Reports video walks you through the different options for each report, and shows you an example of what each report looks like. Information on the generated reports is also provided.
Watch this nine-minute video here: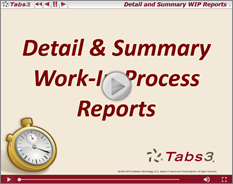 Training Videos can be accessed 24 hours a day, 7 days a week, at Tabs3.com/videos. You can also access Training Videos while in the software by selecting Help | Documentation and then clicking the See also link for Tabs3 and PracticeMaster Training Videos.