During a typical monthly billing cycle, many steps are performed that lead to the production of statements. Once statements have been produced in their final form and sent to clients, do you follow the recommended steps to close the month in Tabs3?
It is important to follow Month-End procedures in order to make sure that statements are archived, you have the desired reports printed, data is error-free, and you have a solid internal backup. The Month-End Procedures video provides more information on performing these recommended tasks after statements have been run.
Watch this four-and-a-half-minute video here: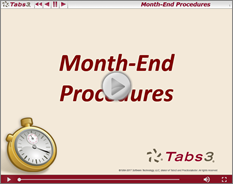 For information on Year-End Procedures, refer to Knowledge Base Article R10429, "Year-End Overviews for Tabs3 Software Products."
Training Videos can be accessed 24 hours a day, 7 days a week, at Tabs3.com/videos. You can also access Training Videos while in the software by selecting Help | Documentation and then clicking the See also link for Tabs3 and PracticeMaster Training Videos.