You just accepted a client who requires that you start using Task Codes. What needs to be set up, and how does Task Based Billing work? Throw in Taskbill, which may be required if a third party will process the bills, and you may not know where to begin or how it all fits together.
The Task Based Billing and Taskbill Training Video walks you through setting up a client for Task Based Billing, setting up Task Budgets, entering fees and costs, and an example of what a statement may look like. Additionally, this video walks you through the process of using Taskbill, including configuration and exporting.
Get a jump start on Task Based Billing. Watch this 10-minute video here: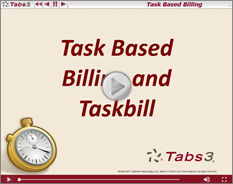 Training Videos can be accessed 24 hours a day, 7 days a week, at Tabs3.com/videos. You can also access Training Videos while in the software by selecting Help | Documentation and then clicking the See also link for Tabs3 and PracticeMaster Training Videos.