Feature Article: New User Guided Tour
Beginning with Version 2021, there is a Guided Tour and Getting Started Checklist to help new users navigate the Tabs3 Software.
The Guided Tour shows new users how to navigate the software by providing a quick overview of:
Quick Launch
Application Toolbar
All Actions
My Actions
Dashboard
Help
You can access the Guided Tour from the Help menu by selecting Navigational Tour.
The Getting Started Checklist spotlights key features in each application. For example, in Tabs3 Billing, the Getting Started Checklist has actions for the following:
Data Entry – Add a contact, client, fee, and cost; view the matter manager; and receive a payment.
Bill Clients – Generate a draft statement and final statement, update a statement, and email a client.
Run Reports – View the Recap of Hours, Accounts Receivable Report, and the Client Ledger Report.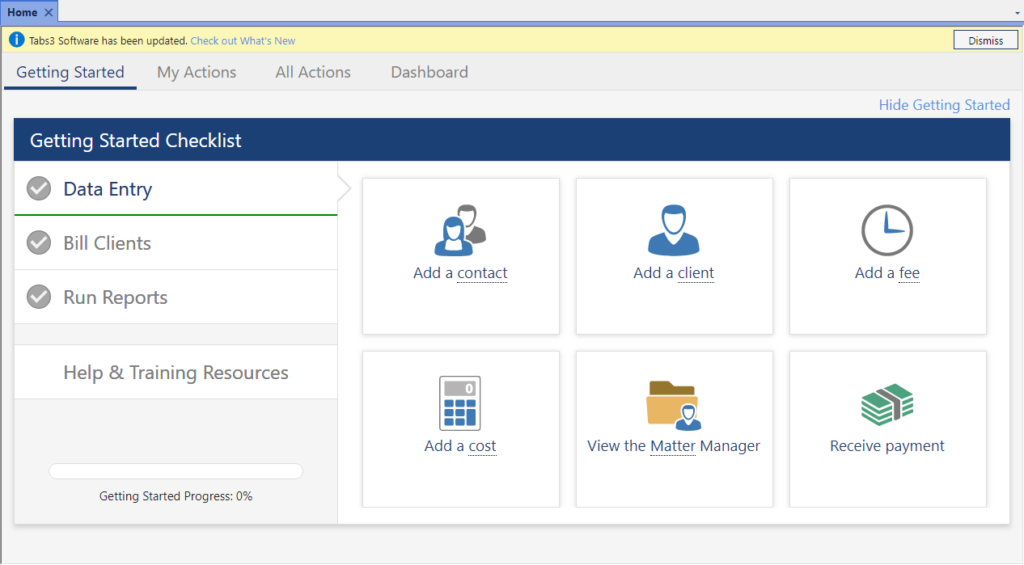 Once you have completed an action (e.g., added a contact, generated a statement, etc.), the action is considered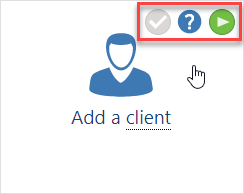 completed and will display a green check mark. Once all items have been marked complete, the Getting Started Checklist is no longer shown. Hovering over an underlined term displays a definition of the term. Hovering over an action displays a check mark that can mark the item complete or incomplete, a link to a Help topic on the subject, and, in some cases, a link to a training video.
The Getting Started Checklist also provides Help and training resources, including links to the Administrator Guide, training videos, Help, the online newsletter and a support overview. A progress bar is provided to help track your progress. Additionally, you can hide the Getting Started Checklist by clicking Hide Getting Started in the upper right-hand corner. If hidden, you can bring back the Getting Started Checklist by clicking Getting Started.
Note: These new features are only displayed when a newly created user logs into any of the applications; existing users will not see them.
Rating: 3.0/5. From 1 vote.
Please wait...