Spotlight: CalendarRules Integrates with PracticeMaster
You've probably seen the announcements that CompuLaw will no longer update or support CompuLaw Court Rules that integrate with PracticeMaster after December 31, 2016, and that we are now integrating with CalendarRules. But if you're not yet familiar with CalendarRules, keep reading to see what all it's all about!
What is CalendarRules?
CalendarRules offers general civil litigation-related court and agency Rule Sets for State, Federal, Appellate, and Bankruptcy courts across the United States. Currently, rules are available in all 50 states, with additional courts being added every month.
Why subscribe to CalendarRules?
CalendarRules works through an online connection via PracticeMaster. No additional software is required.
Updates are automatic so you will always have the most current rules.
Licenses are not based on the number of users. Purchase a license for the desired rule set(s), and everyone can use it through PracticeMaster.
E-mail notifications can be set up to e-mail specified users when rules have been updated.
You can contact CalendarRules at CalendarRules.com to subscribe. Make sure to let them know you use PracticeMaster.
How is CalendarRules Set Up?
After purchasing a license from CalendarRules, integration is set up entirely through PracticeMaster.
To set up CalendarRules Integration
From the Maintenance menu, point to Integration and select CalendarRules Integration.
Enter the Login Token provided by CalendarRules.

Click the Test Login button to verify the Login Token is accepted.

Optionally select the desired Record Types to display in the All-Day Events area of the Daily/Weekly/Monthly Calendars.
Optionally select to Enable CalendarRules Update E-mail Notification, including the To, Subject, and Body fields.

Click the Test E-mail button, enter the From Address, and click Send to verify e-mails can be successfully sent from PracticeMaster.

Click OK.
How are Calendar Plans Generated?
CalendarRules' calendar plans are easy to generate.
To generate a CalendarRules plan
From the Calendar menu, select Generate CalendarRules.
Enter the desired Client ID and, optionally, Contact.
Select the appropriate Jurisdiction, Trigger, Date, Time, and Service Type (if applicable).
Select the User/Group.
Optionally select the Prepend Notes to Comments check box, and then enter any desired Notes.
Click Preview.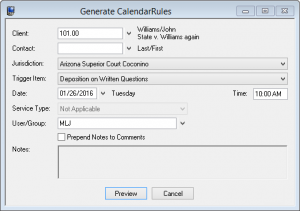 You can now preview the calendar plan.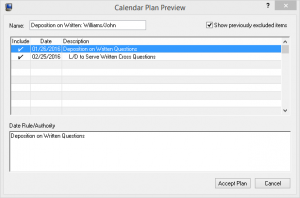 Once you have clicked the Accept Plan button, the PracticeMaster View Calendar Plans window will be opened. Plans that have been generated via CalendarRules can be reviewed at any time via the PracticeMaster View Calendar Plans window.
For more information on CalendarRules, see Knowledge Base Article R11713, "CalendarRules Integration Overview."
No votes yet.
Please wait...