Spotlight: Report Suites Save Time
Creating report definitions for each of the reports your firm runs can help save considerable time, and taking advantage of Report Suites in Tabs3 saves even more time. When your firm prints the same set of reports every year, quarter, month, week, or semi-regularly, report suites offer a one-step option to printing out a predefined set of reports using the report definitions you already have set up.
Multiple suites for different departments or individuals can be created. This allows personalized report suites to be saved and printed for a range of needs including monthly, quarterly, and yearly reports, as well as suites designed specifically for billing, collections, and individual attorneys.
Report suites are easy to set up and even easier to run. To create a new suite of reports, click the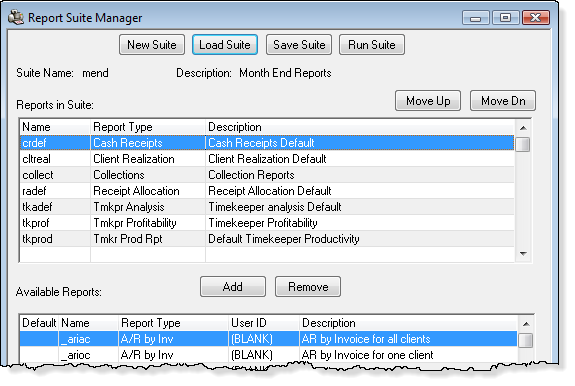 Reports menu, point to Report Suite, and select Report Suite Manager. Click New Suite, select a report you want to include from the Available Reports list, and click Add for each report you are including. Available Reports will include any reports with a report definition already set up. Once you have made your report selections, click Save Suite and enter a File Name and Description for the new suite.
When you are ready to run a suite, click the Reports menu, point to Report Suite, and select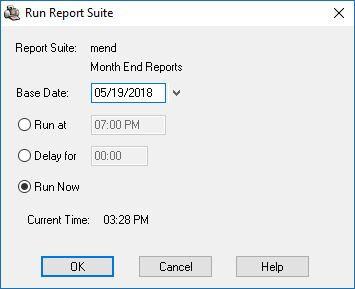 Run Report Suite. Select the suite you would like to run and click OK. The Run Report Suite window allows you to specify a Base Date and when you want to run the report suite. Report suites can be run at a specific time, after a specific period of time has elapsed, or immediately. This window can also be accessed by clicking the Run Suite button in the Report Suite Manager.
Once the report suite begins processing, each report definition is launched immediately. When you have several reports to run, this can save a great deal of time compared to launching each report individually, selecting a report definition, and then printing. If you have not already taken advantage of Report Suites, try it out and see how much time your firm will save!
No votes yet.
Please wait...